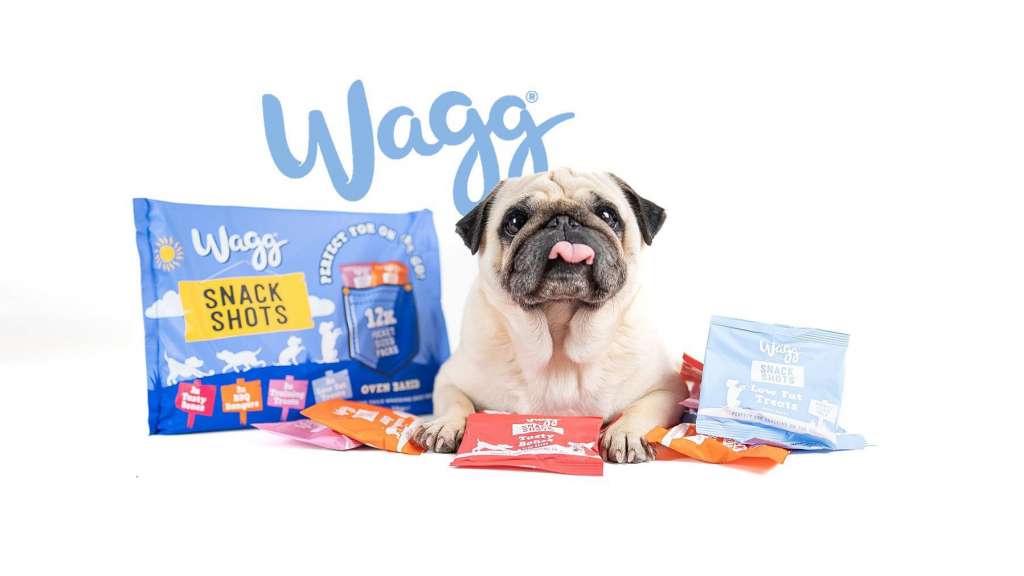 Puggy Smalls and the gang rate our Snack Shots - pocket sized treat pouches perfect for any adventure!
Pupfluencer Puggy Smalls and his family - Pop Sausage, Pugyay and Pomegranate - have all been tucking into our tasty new Snack Shots this month. Read their guest blog below to find out what they thought - and which are their favourite flavours!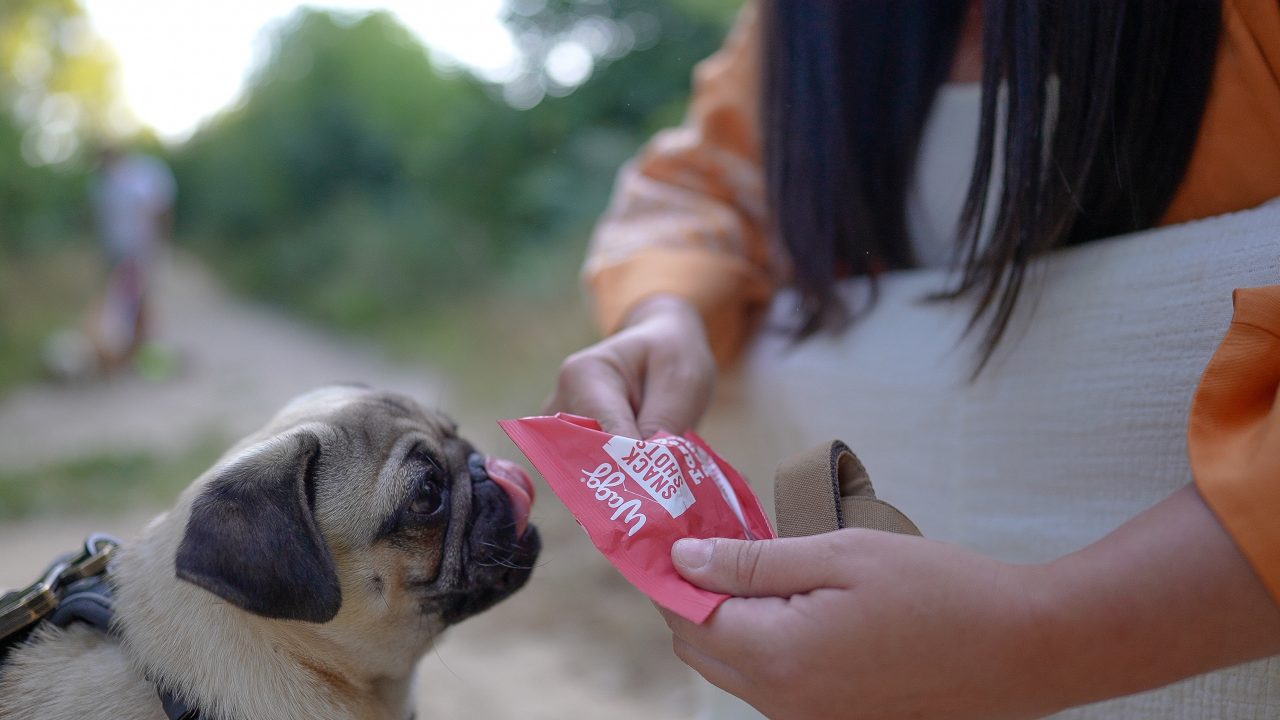 We have been long term super fans of Wagg, and I can't remember the last time our dog cupboard didn't contain a selection of their exciting, fun dog treats. So, when we heard about the new Wagg Snack Shot multi packs, we jumped at the chance to try them out!
Snack Shots are the perfect pocket-sized dog treat packs for adventures with your fury friend. Each pack contains 12 packs of treats – in a variety of four irresistible flavours to suit every type of doggy out there!
The packs are the perfect size for walkies, car journeys, training and more! No more half empty packs of dog treats causing mayhem in the washing machine or spilling out your pocket in the car!
Wagg have taken some of their best loved treat flavours and given us a far more convenient way to treat our dogs and make sure their treats are as fresh as possible. Each pack contains 12 snack shot packets, all with no added sugar, 3x Tasty Bones, 3x BBQ Bangers, 3x Training Treats, and 3x Low Fat Treats. Perfect for keeping things varied and interesting, or if you're like us with multiple dogs, something for everyone!
Our pack of pooches are so varied in many ways. They are different ages, breeds, genders, preferences, and weight. So, we found these treats to be a real game changer as all needs were met with such ease!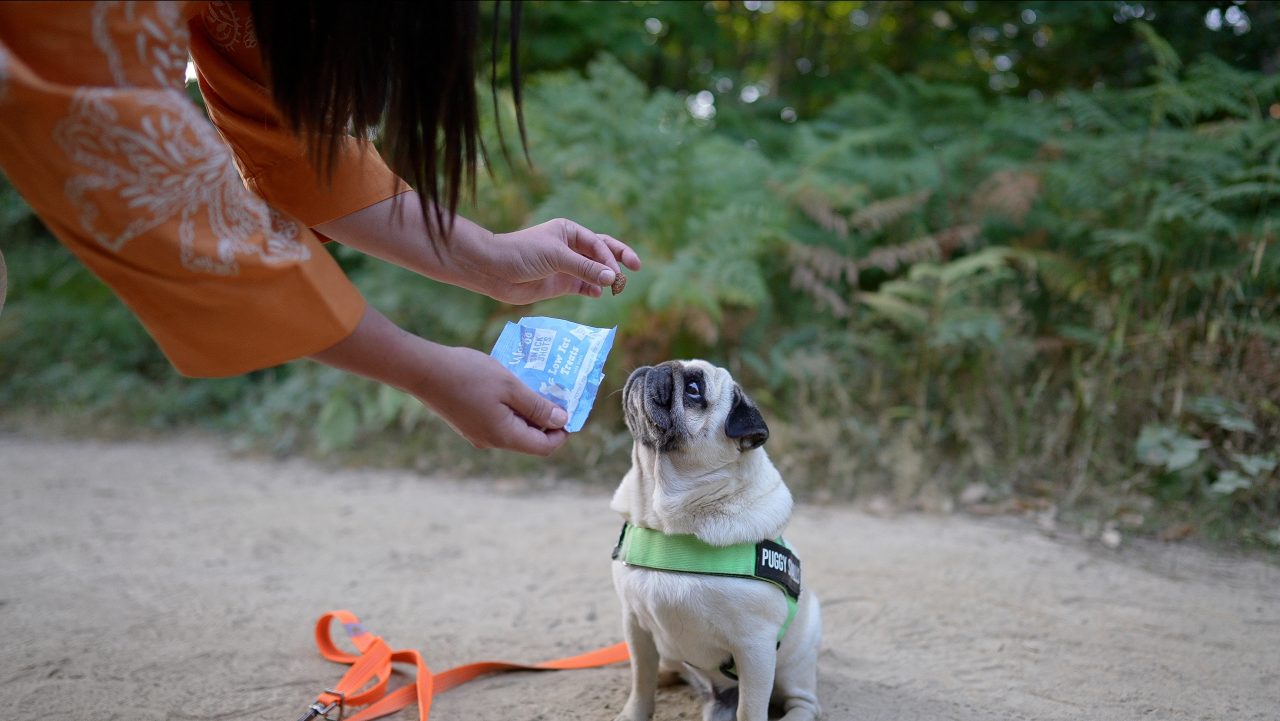 Let's start with our big boy Puggy Smalls. Puggy is a seven-year-old pug with a love of food and a variable waistline! Like all responsible Pug owners, we are always watching his weight and its lovely to be able to give him the low-fat treats without worrying so much about the calories. He can be a little lazy at times, but with the help of these little packs of joy, he is motivated to keep going and earn himself a mega tasty, low-fat reward!
Pugyay is our little pug Puppy who has just turned 9 months. He is still learning how to be a good boy, but the Wagg training treats are such a great training aid that once he hears that pouch start to rustle and gets a whiff of these delicious baked snacks, his recall and commands come much easier! These meaty bone shaped treats contain yoghurt to aid with digestion and they are super gentle on his young tummy!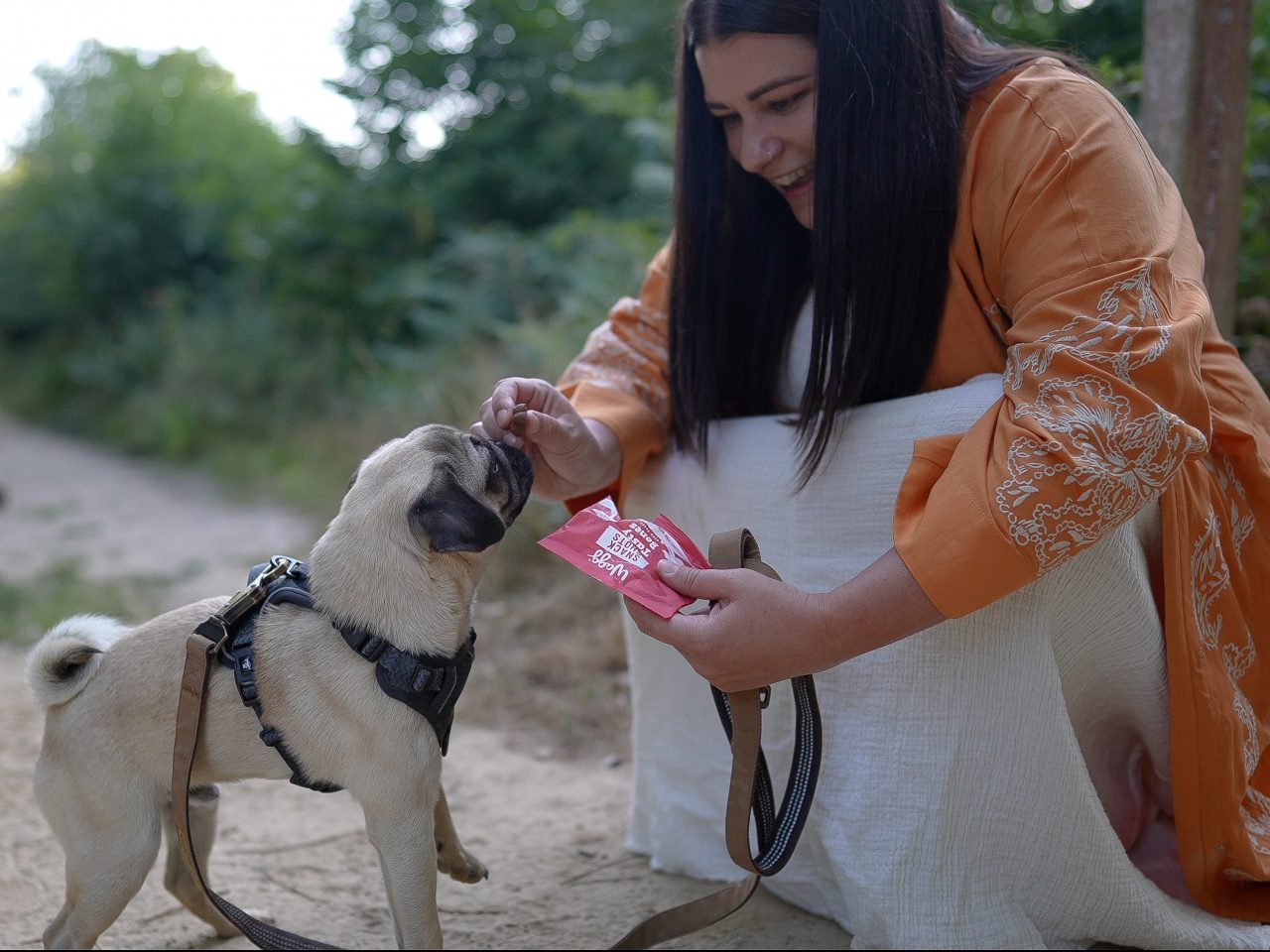 Pops, our little old lady is a senior dachshund who is the most stubborn dog you will ever meet! She's unbelievably lazy, and incredibly barky when other doggos walk by. We found the Wagg bangers snack shots are her kryptonite! Not only do they motivate her to enjoy her walks and get exercise she needs, but she also loves them so much that they become her sole focus when we are on walkies and even work as a distraction from other dogs. If they are lucky, she will even share one or two! Pops is also very fussy and as a senior pooch, her teeth aren't as strong as they once were. The texture of these bangers is PERFECT for her, as they aren't too hard, not to mention delicious!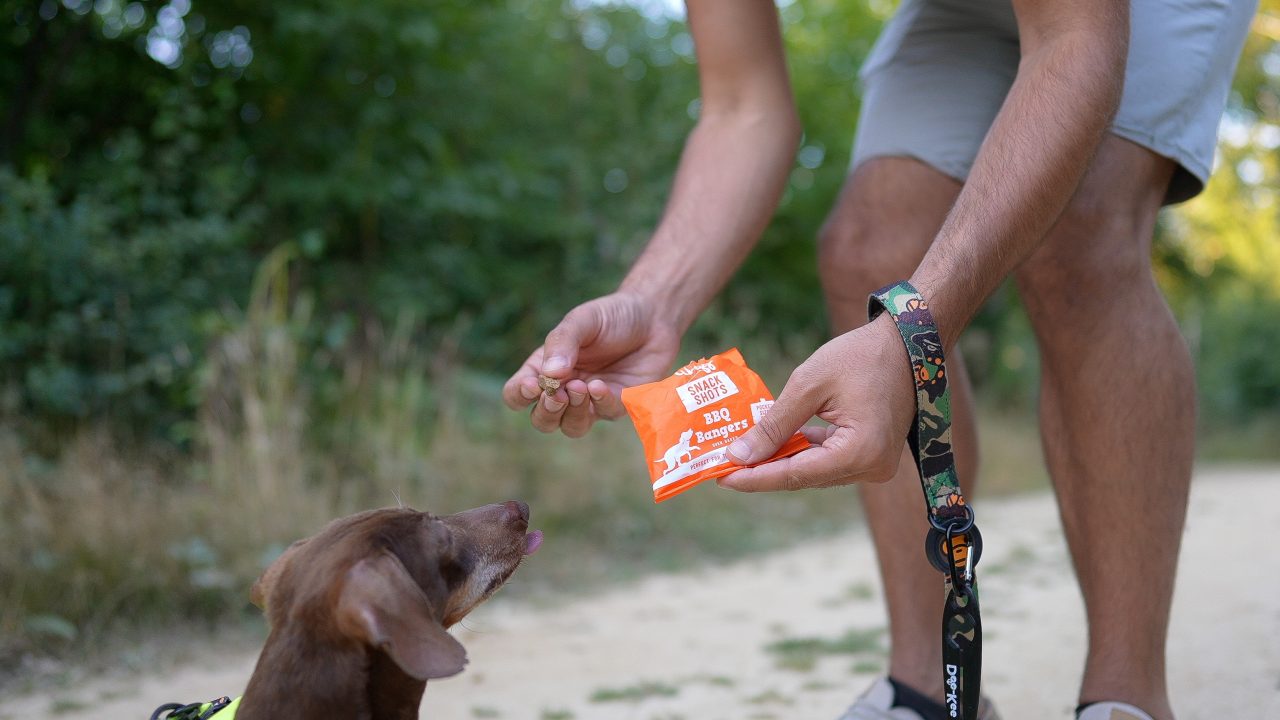 Pomegranate is eager to please but lacks focus. She's our high energy fluff ball who loves the great outdoors, sometimes a little too much! She's a real tomboy who loves to sniff around and roll in anything stinky, but rest assured all emergency bath times have been postponed as we can whip out any flavour of the snack shots and she will come bounding towards us before she has the chance to think about getting mucky!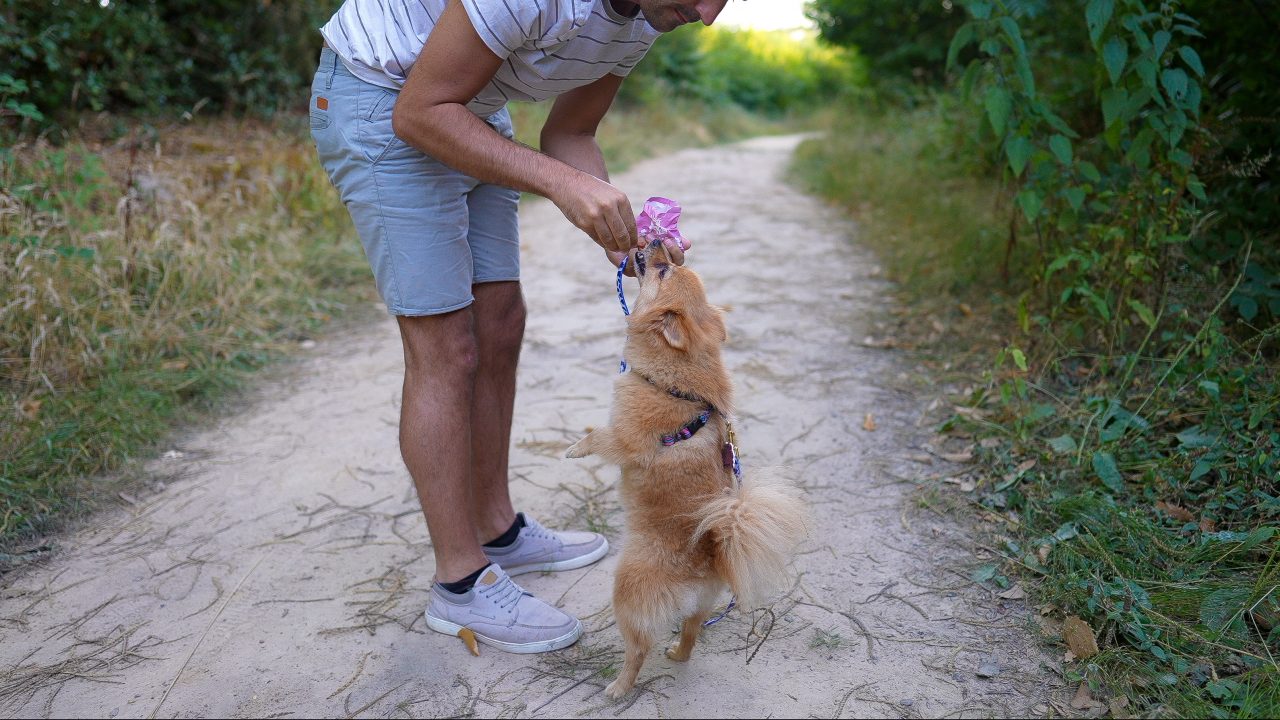 As a dog owner, I love that these pocket-sized snacks help me to keep tabs on how many treats my dogs are eating. With larger packs I can easily over feed them as its difficult to keep track, but the Wagg Snack Shots help me to keep monitor their treat consumption and it's a bonus that they fit so easily in my jeans or jacket pockets! The pack size makes them super convenient and accessible so I can reward good behaviour and recall in a heartbeat without riffling around my bag for larger packs.
Believe me when I say, these oven baked treats are PAWESOME! Once your dog tries them, there's no going back! They are high quality, affordable, wholesome, and healthy. They are super tasty to all our dogs (even fussy Pops) and with added vitamins and minerals, I love that our dog's health benefits from these too!
Made with love in the UK, it's clear to see why Wagg are Britain's fasted growing dog food brand and It's safe to say, these treats will have our fur babies' tails wagging for many years to come!
Snackies out of 10? 12/10 will 'Wagg' again and again and again!