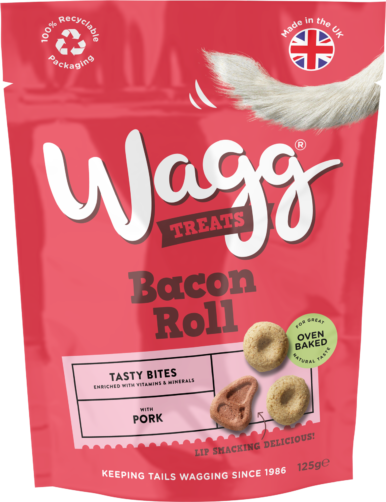 Wagg Bacon Roll Tasty Bites with Pork
Available in:125g
A complementary pet food for all dogs 8 weeks and over. Wagg Bacon Roll is a delicious treat for your dog, enriched with extra
vitamins and minerals.
Tasty Bites
Enriched with vitamins and minerals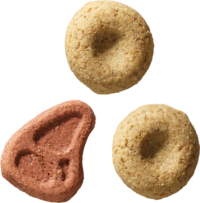 Made in the UK
Oven baked for natural taste
No added sugar
Enriched with Vitamins & Minerals
Ingredients & Nutrition
We only put the very best into our food and treats, so you and your pets get the most out of them. Take a closer look at our recipes and nutritional information here.
Wagg Bacon Roll Dog Treats
Wheat, Pork Meal (26%), Glycerine, Vegetable Oil, Minerals, Gelatine, Whey Powder
Wagg Bacon Roll Dog Treats
Vitamin A 10,000 iu, Vitamin D3 1,000 iu, Vitamin E 60 mg, Zinc (Zinc Sulphate Monohydrate) 75 mg, Manganese (Manganese Sulphate Monohydrate) 15 mg, Copper (Copper (ll) Sulphate Pentahydrate) 5 mg, Iodine (Calcium Iodate Anhydrous) 1 mg, Selenium (Sodium Selenite) 0.1 mg
Wagg Bacon Roll Dog Treats
Moisture 18%, Protein 27%, Fat Content 8%, Crude Fibre 1%, Crude Ash 8%